RUBEN CORDOVA
Ruben Cordova should be a name that any serious snowdome collector should be familiar with.
For 25 years, spanning 1966 to 1991 Ruben was the creative director at The Karol Western Corporation in Bell Gardens, California.
The Karol Western Corporation has for many years been one of the 3 major creators, manufacturers and distributors of souvenirs in the United States. The other 2 being Nanco in Massechusetts and Allen-Lewis Manufacturing Company in Denver, Colorado. All through the 60's and 70's some of the coolest and kitchiest souvenirs were designed and made up by companies like them.
Snowdomes, salt and peppers, glasses, penants, ash trays, souvenir buildings, tablecloths and scarves. You name it.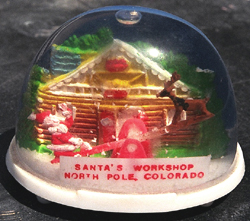 And if there was a king of the designers of these funky items it would have to be Ruben Cordova.
"We had our own factories and employed or own specialized silk-screen methods in Hong Kong", Ruben told me in one of two interviews we conducted. He described the snowdome's interior moulded panels as silk-screened first and then hand painted detailing finished them off with a one of a kind, folk art look.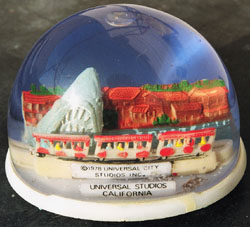 A good example of his handy work showed up in the whole series of snowdomes from Universal Studios in North Hollywood, California. Every time a new attraction like Jaws, Battlestar Gallactica, Dracula's Castle or King Kong had to be featured, Ruben was called on to create all new items.
"Each time souvenirs for one of these new attractions was requested, all of the old ones were pulled.", Ruben conveyed. So hundreds of little known items, snowdomes included were made up.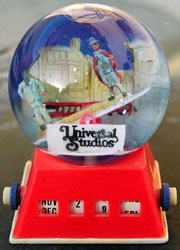 But Universal Studios aside, snowdomes were made up by Karol Western for Mom and Pop roadside attractions as well as other large amusement parks like Universal. Attractions in all categories. Various zoos, Olivera Street, Houston Space Center, Space Farm, Alaska Railroad, Sea Caves in Oregon, Catalina Island, Enchanted Forests, Santa Claus lands, Magic Mountain and Movieland Wax Museum are some of the classic amusements that got Ruben's signature funky design.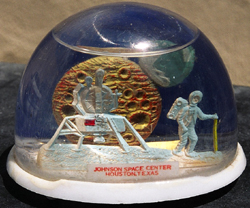 While many of these tourist places survived, many did not. Even the large amusement parks are changing hands and have become glossy, special effects oriented and overly commercialized in an unaesthetic way. So it is only fitting that Ruben Cordova's work be featured here.